If you're looking for easy bedroom makeover ideas – you've come to the right place! Our master bedroom seemed to be the only room in the house that didn't get the attention it needed when it came to decor.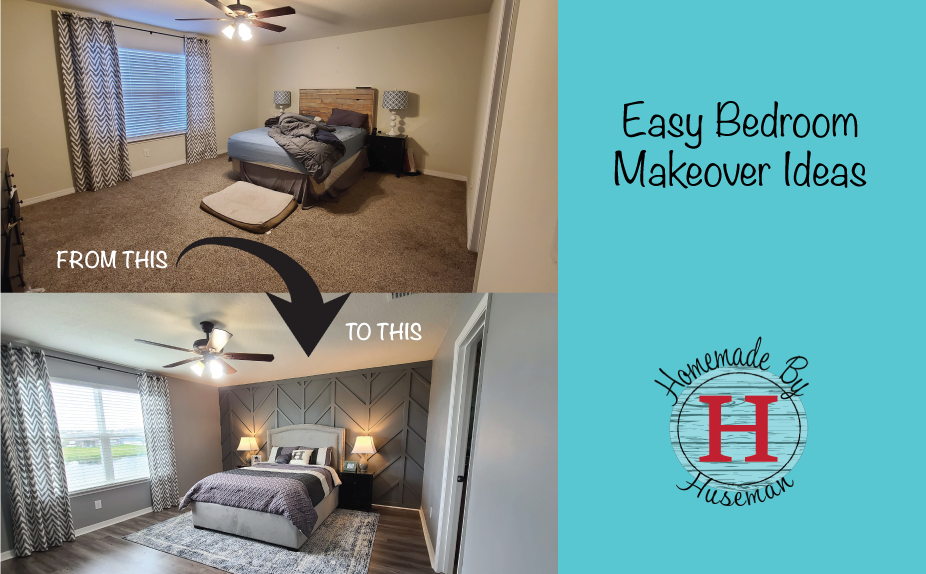 Our bedroom was easy to forget about since we're the only ones that see it, but we decided it was time for a refresh to turn it into a romantic and homey space we'd enjoy starting and ending our days in.
Here are our bedroom makeover ideas that we did and you can too!
Fresh Coat Of Paint
An easy bedroom makeover option is to simply paint the walls. The difference a little bit of color on the walls can make is truly impressive.
If this sounds like a daunting task, make sure you check out our Tips for Painting post for the best tips and tricks that make painting suck a little bit less.
Our home was new construction so when we moved in the whole house was painted a flat off-white builder-grade beige. While we quickly painted most of our common spaces, but sadly it took us three years before we decided we couldn't handle such a bland look in our bedroom. Better late than never, right?
After painting our bedroom walls the room already felt brand new. We chose a pretty subtle light gray and a dark gray for an accent wall. Just a hint of color really made a world of difference.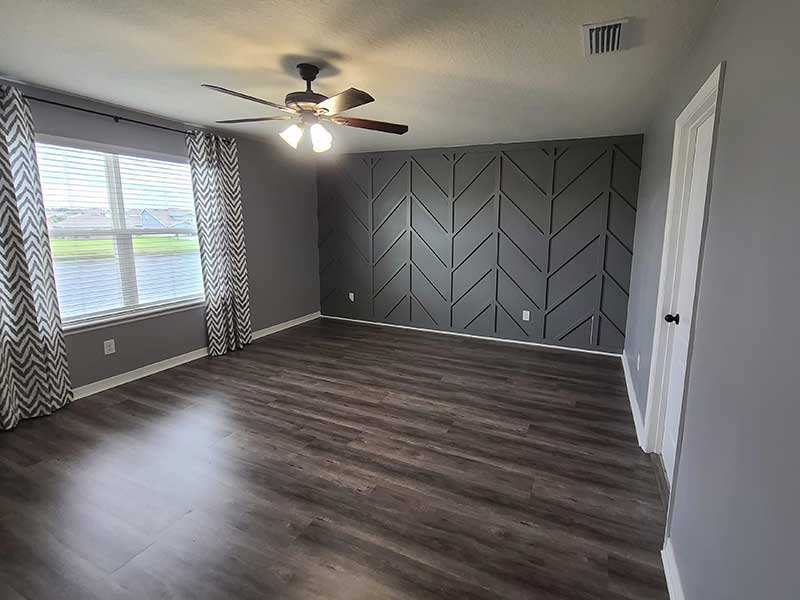 Add a Feature Wall
I LOVE feature walls. So it came naturally that when we were giving our bedroom a makeover, this was going to be part of it. We decided to do the wall our bed sat against so in conjunction with the bed it would act as a centerpiece to the room.
While this bedroom makeover option may seem a bit advanced, it's actually fairly easy as long as you have trim boards, a nail gun, paint, and construction adhesive. We went with chevrons, but the sky's the limit with these walls. Even something as simple as squares adds texture and a cool design feature to the room to take your bedroom from average to model home in a weekend.
Check out our tutorial on how we created the chevron wall in our bedroom.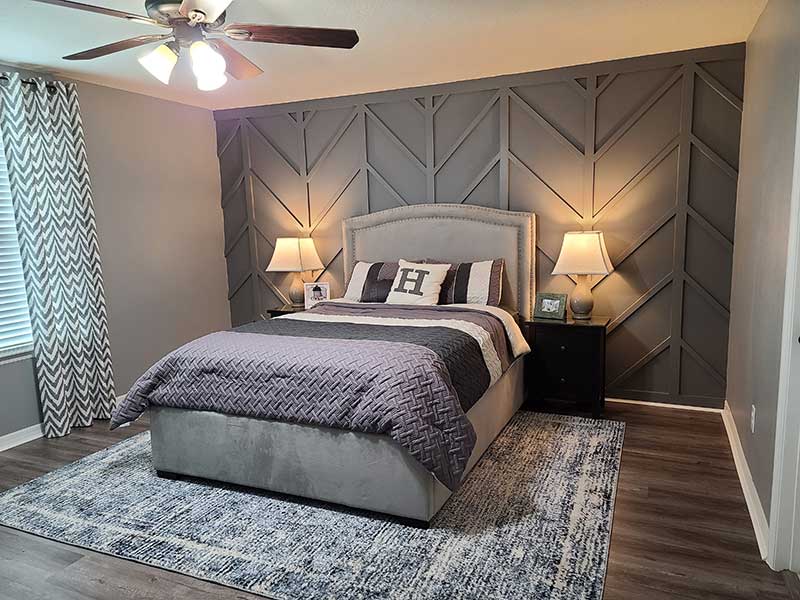 A New Bed
I consider the bed to be the centerpiece of the room. It is in fact called a BEDroom, meaning its biggest feature is the bed.
After paint colors, the bed was actually the second thing I picked for our bedroom makeover and I let everything else fall in to place to be cohesive with the style of the bed.
When choosing a new bed it's important to consider the look and style you're going for. If you want a rustic or farmhouse bedroom you'll want to stick with something wood, or if you want modern you may look for a minimalistic black frame. For our bedroom, I wanted a soft romantic look that would contrast against the harsh angles of the chevron wall, so we went with a light gray upholstered bed.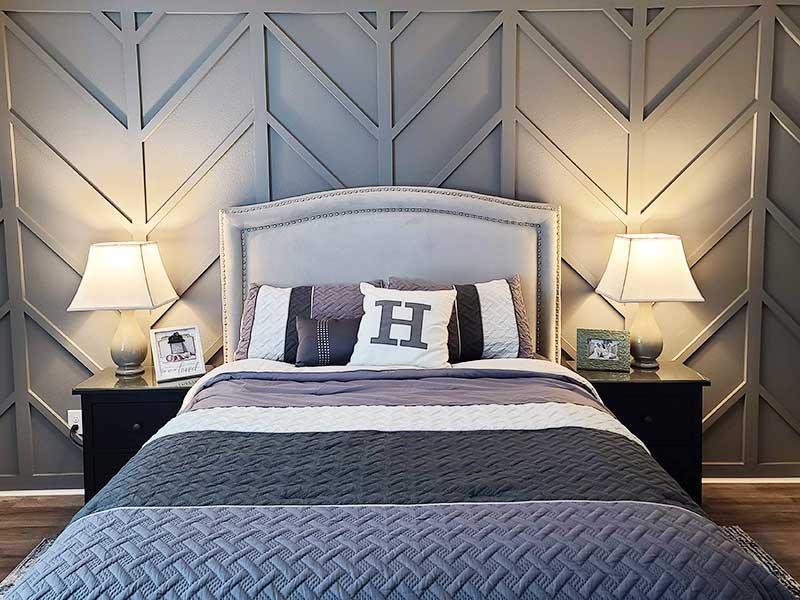 Add a Rug
When doing a bedroom makeover it's easy to focus on the walls and the furniture. What you might be missing is a pop of color on the floors. In most cases you'll want to put the rug under the bed, again ensuring it's cohesive with the centerpiece of the room.
Choosing a rug can be tricky, but it's important to consider these three things:
Size: Ensure the size of the rug will fit properly under the size of your bed. I personally prefer to have the rug start just past the nightstands and run about 3 ft. past the foot of the bed, and then another 2-3 ft. on either side.
Pattern: If you have solid colored flooring in your bedroom a busy pattern may work in your favor to add an extra design element to the room. However, if you have a patterned floor with something like tile or wood grain you'll want to stick to a more subtle carpet pattern.
Texture: When buying a rug for your bedroom remember that this rug will be the first thing you step on every morning. Make sure the texture and durability is something you'll enjoy for the long term. For us, it was important to find a balance of soft, but not too high of a pile.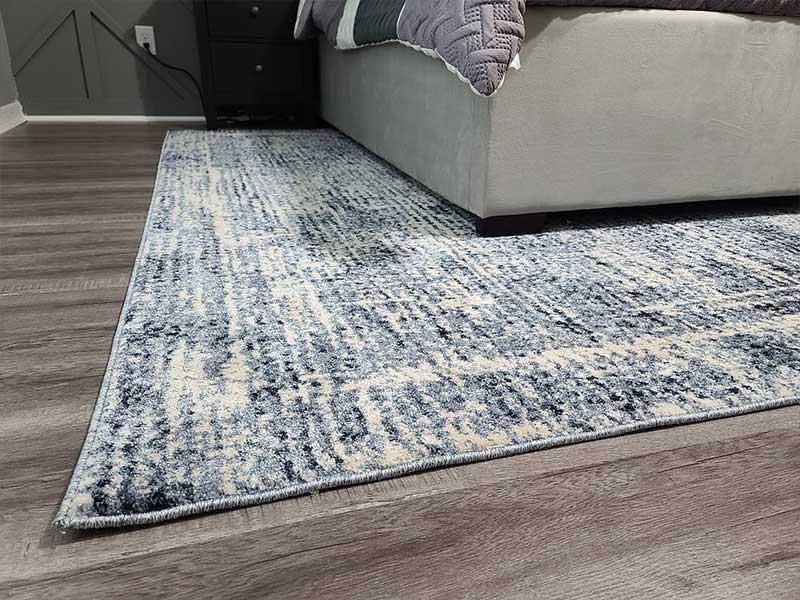 Update the lighting
Updating the lighting can happen in two ways with a bedroom make over. The first one is the actual bulbs. If the main lighting for your bedroom has a warm white color to it, consider changing it to a bright white or daylight bulb. The clean crisp white can quite literally brighten up a room.
Once we painted our room gray, we felt the daylight bulb brightened it up significantly. However, we did put warm white bulbs in our bedside lamps to allow for a soft glow at night before going to bed.
The other way to update the lighting in a room is the actual light fixtures. This can be your over headlight with a new chandelier or a more decorative ceiling fan or it can be bedside lamps.
Shopping for new light fixtures can be fun and overwhelming all at the same time. The most important things to consider are what other colors and design elements are in the room. If you're keeping the room pretty neutral, a simple lamp will do the trick and you'll want the colors to be cohesive with the rest of the room. Don't pick a lamp with a crazy pattern if the rest of your bedroom has a soft romantic feel to it.
On the flip side, if your bedroom does have a theme to it, like coastal or farmhouse, a light fixture can be a great way to add a new design element like a driftwood or lantern-style lamp base.
We found the best selection for lamps was at Lowe's. What we liked the most was being able to mix and match to find our perfect lamp style.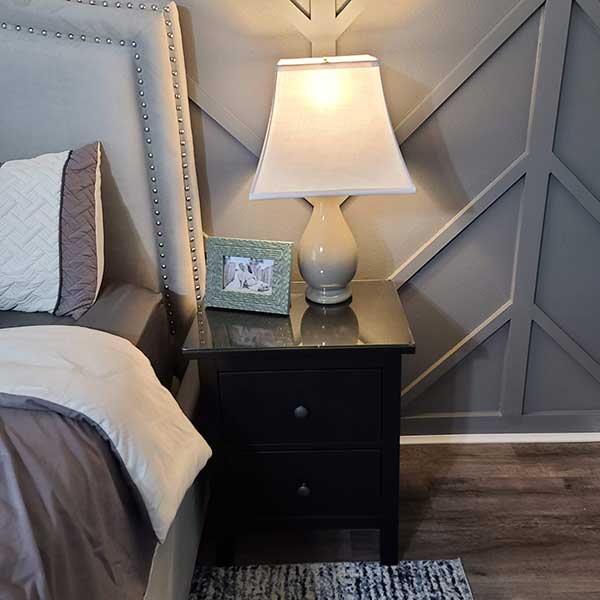 Refresh the linens
Sometimes one of the simplest ways to give your bedroom a makeover is to dress up what you already have in there. By this I mean, get a new bedspread or change out the curtains. The fresh colors and new look may be all you need to transform your room.
Bonus points if what you pick already matches your existing furniture, rug or light fixtures.
When picking out a new bedspread it's important to consider comfort and functionality too. If you're not the type to remove a decorative cover every day, be sure to choose something durable and comfortable so it'll last and continue to look beautiful.
With curtains, you also want to consider functionality. Are they purely decorative or do you plan to close them to darken the room? Whatever you choose you'll want to consider how they'll look in the room both opened and closed. If blackout curtains are important to you, consider something with an eye-catching design to avoid a dense block of color on the wall.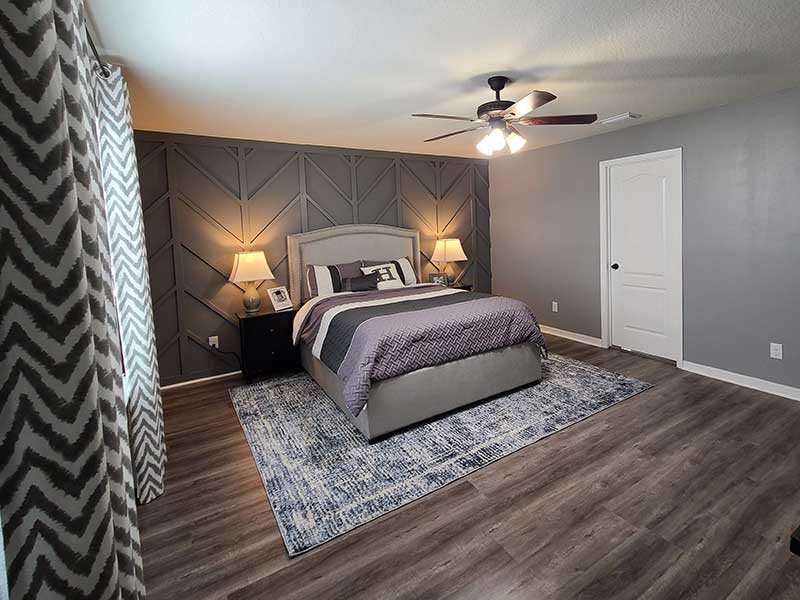 New Flooring
We'll have to admit, this one may not be as easy as the rest, but if you're up for the challenge – it's so worth it!
As a part of our master bedroom makeover, we decided to remove all the carpet and put in wood-look laminate. It truly changed the whole look and feel of the room and we still did it ourselves to save on cost.
When choosing a new floor, consider the look you're going for and what colors your plan to incorporate. When we chose a gray a pallet for the room, I knew our beige and brown carpet wasn't going to jive well. I was also hesitant to go with any deep brown wood looks.
We choose a rustic gray wood, partially because that's just our style, and partially because it flowed with the warm and romantic feel we wanted in the room. We also liked that it was fairly neutral and would still work if we decided to change the colors of the room again in the future.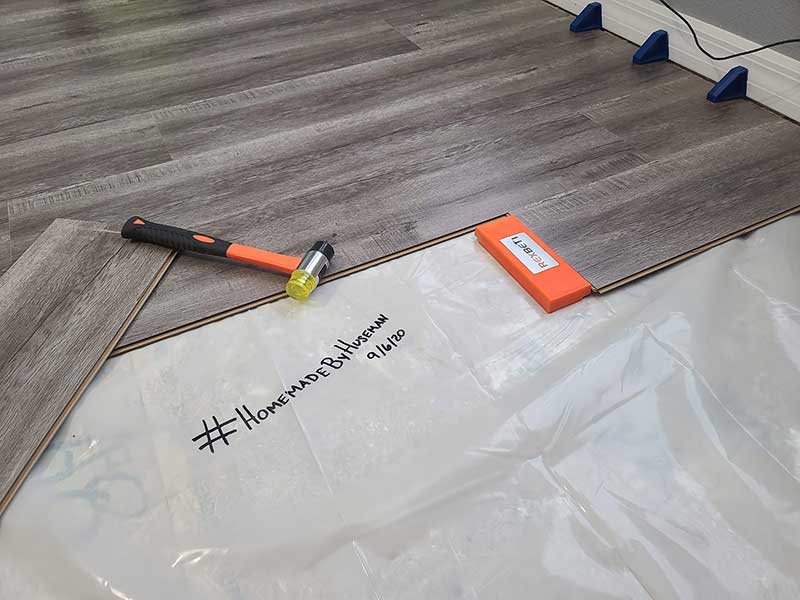 Budgeting for a Bedroom Makeover
It's important to budget for a bedroom makeover since it can get expensive quickly.
Before doing anything in our bedroom we made a dream list. In a perfect world, if money was no object we listed out all the things we'd like to do. Then we priced out each one individually, and for items like the bed and additional decor, we gave ourselves a reasonable range to have options as we got to the design details.
With these things in mind, we gave ourselves a reasonable budget and picked out top items we really felt would make a difference in the room. This also allowed us to do the renovation in pieces so we could spread out the expenses.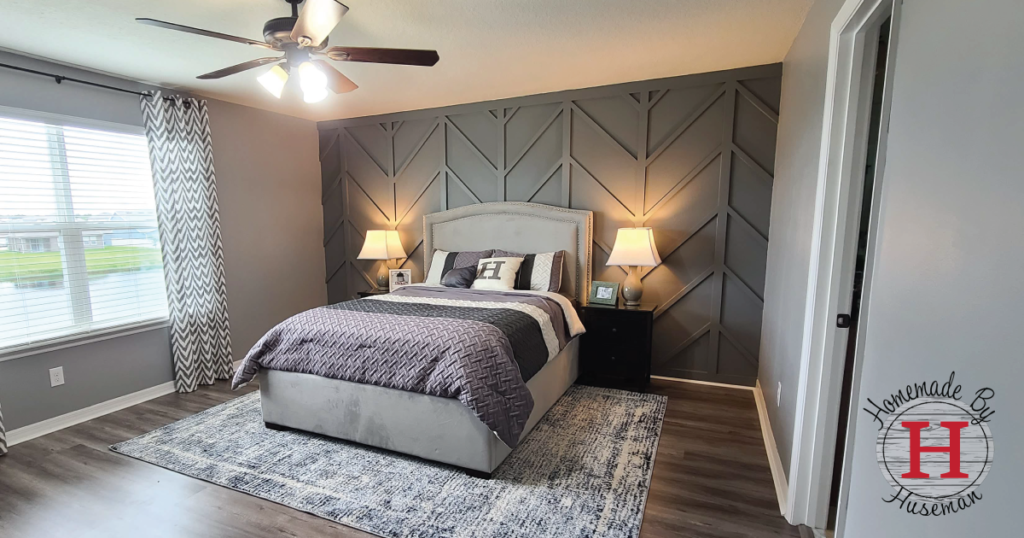 Are you ready for an easy bedroom makeover? Which of these ideas do you plan to use? Show us your makeover on social using #homemadebyhuseman!
Need more inspirations? Checkout out more of our most recent DIY projects:
We are sorry that this post was not useful for you!
Let us improve this post!
Tell us how we can improve this post?