*Disclosure: We only recommend products we use ourselves. This post may contain affiliate links that at no additional cost to you, I may earn a small commission. Read full privacy policy here.
Putting together a mountain themed nursery when we were expecting our second baby was so much fun! We took a little babymoon up to the Blue Ridge Mountains and felt so inspired to bring that calm, nature-filled aesthetic back home to our baby's room.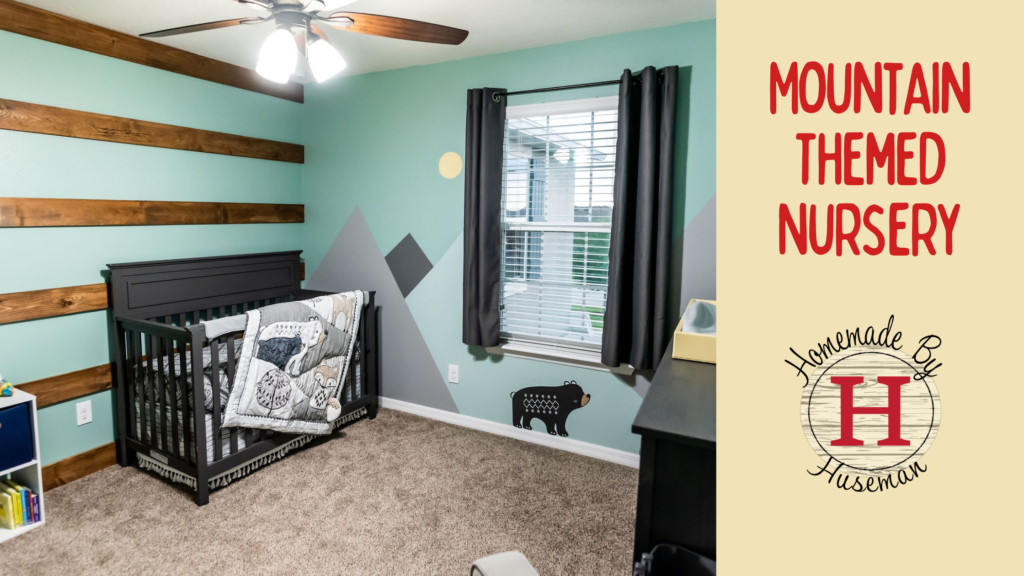 It took some time to figure out exactly what we wanted for a mountain nursery theme with lots of ideas and a big blank canvas of a room to work with. The biggest challenge we were facing was picking which wall to make the nursery accent wall because this room didn't have a full blank wall like our other bedrooms. Two walls had a window, one had closet doors, and the other had an entry door. Spoiler alert: we ended up making two!
To design the room just right we took into consideration furniture placement and where your eye goes when you enter the room. Knowing we were going to paint the room, we didn't want to move the furniture in yet, so a little trick we used was taking the length, width, and height on painters tape of the crib and dresser and lining the walls with the tape to easily move it around the room and decide which walls fit each furniture piece best.
Typically in a nursery, the crib wall is the nursery accent wall, but the wall we decided to put the crib on a wall that wasn't one immediately seen when you enter the room. This is why we decided to do something a little different and do two feature walls, but with different styles and textures so they weren't competing with each other.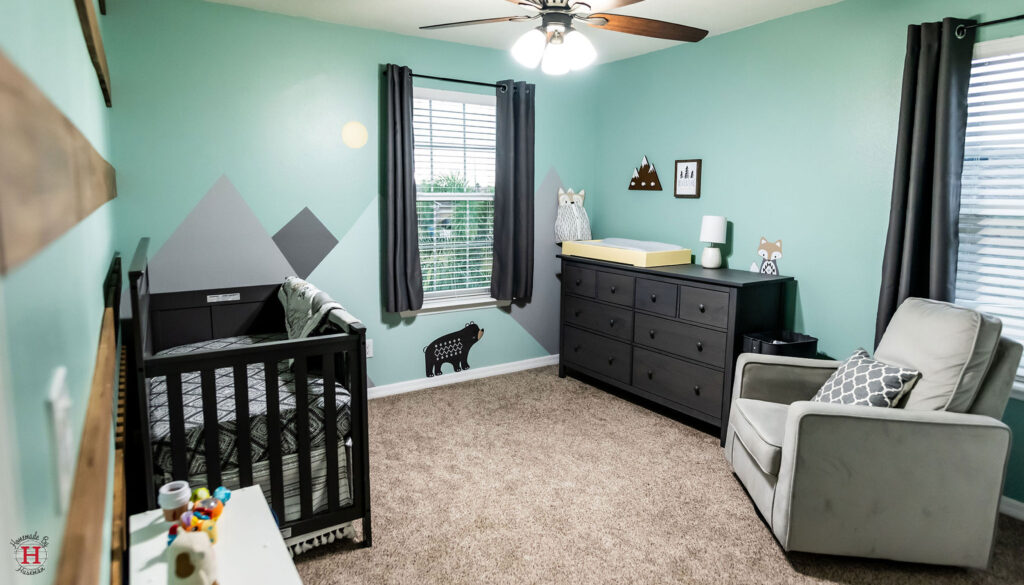 Choosing a Nursery Color
Our first born had a lot of blue with a nautical theme in his room, and our master bedroom has a lot of gray so we wanted something different for this nursery. When looking through colors, this soft calming green really seemed to pair well with a mountain-themed nursery and blended the neutral grays and browns we planned to put in the room.
When painting the room we used Purdy paint brushes and rollers and the Sherwin Williams paint from Lowes which offered flawless coverage with just two coats. The painting was fairly quick and easy thanks to our favorite painting tips.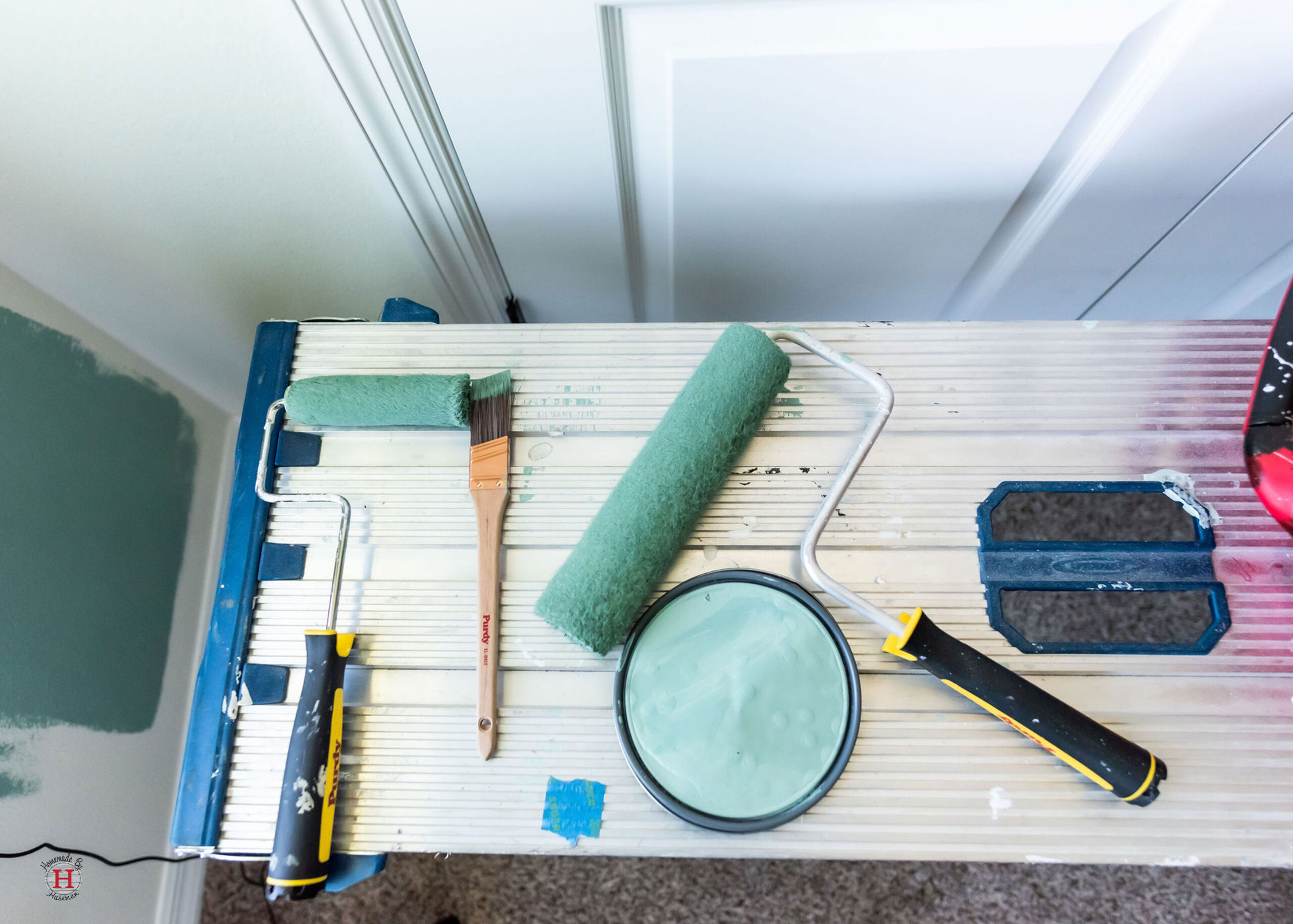 Crib Nursery Accent Wall
The crib nursery accent wall brought in the natural woodland nursery theme we were going for. It's no secret we love a wood accent wall. Initially, we wanted a shiplap wall or board and baton, but in 2022 the rising cost of lumber wasn't coming down anytime soon. We kept it simple with stained 1"x6" wood boards evenly spaced from top to bottom to add a subtle wood accent, but not too overpowering.
This was amazingly easy to create. We stained the 1×6 boards before installing them with a semi-transparent dark walnut stain for a bold contrast against our paint color. To stain we simply used a cheese cloth and covered all 6 sides of the board for an even color. We got the desired look with 2 coats.
We then measured even spacing for the placement of all 6 boards starting with one on the bottom to replace the shoe molding and one along the top with the ceiling.
When determining how many boards to use and what spacing we wanted, we also took into consideration the placement of light switches, outlets, and the door frame to avoid having to cut around them. Six boards gave us the cleanest look and we then measured the length of the wall where each board would go and cut each board to fit with a small gap to allow for any expansion in the wood.
To attach the boards to the wall, we used our 360-degree laser level to shine a straight line at their marked placement. Then we identified where all of the studs were on the wall to be able to nail the boards directly into a stud with our RIDGID 18V Brushless Cordless Finish Nailer.
This whole process took about half a day and added a beautiful nursery accent wall.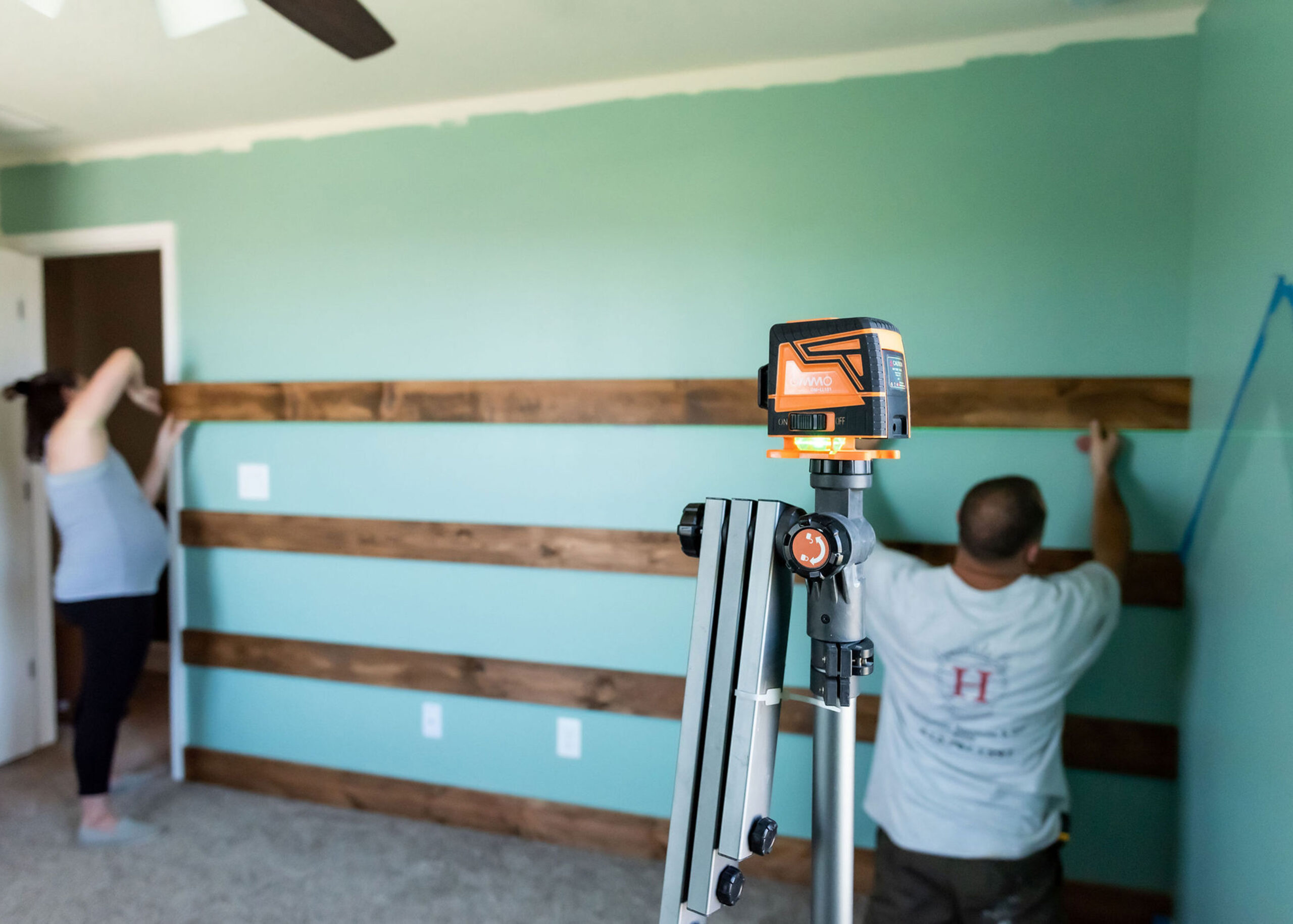 Mountain Nursery Wall
On the adjacent wall, which is immediately seen when you walk into the room, we decided to paint a simple mountain mural. We used a coordinating soft green from the same color pallet as the main color we chose for the walls, as well as a soft gray and a dark gray for two contrasting mountains to give some depth to the mural.
We're not exactly artists, so we kept the mural super simple using painters' tape to outline triangles that overlapped each other for depth. To get clean crisp lines with painter's tape, we first painted over the tape with the color of the wall, then filled it in with the color of the mountain. To paint the sun, we traced a circle with the top of a gallon paint can and then filled it in by hand with a small brush.
Check out the Instagram reel we made to see how the painted wall came together.
Overall, between the two walls, one added a soft touch with a little mountain theme while the other added a bolder feature wall to give the theme room a cozy cabin feel.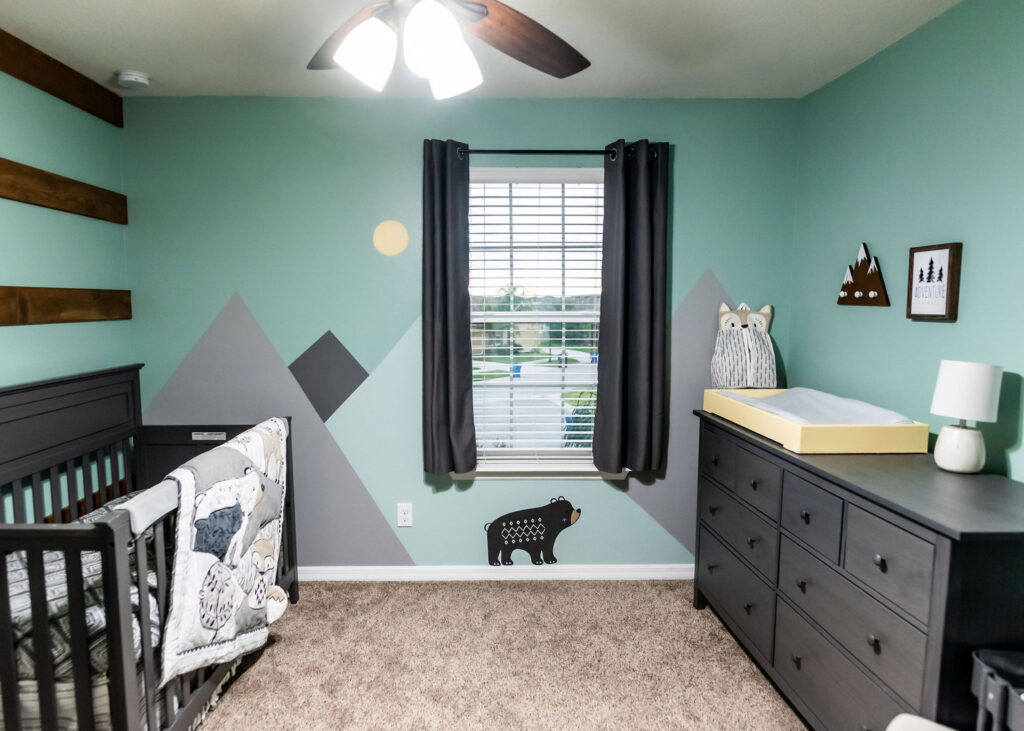 Mountain Themed Nursery Décor
It took a little bit of hunting to find the perfect accents for the mountain nursery theme. Going with the soft green and gray color scheme, vs a traditional baby blue meant we had to carefully pick our mountain themed nursery décor to match without adding so much blue.
We shopped Buy Buy Baby, Target, and Amazon to find just the right pieces. After spending so much time making the feature walls perfect, we didn't want anything overstated to take away from them. Finally, we came across this Woodland Nursery set that was perfect. It came with a sheet, bed skirt, quilt, diaper stacker, and wall decals.
At first, we had no desire to use the wall decals, I felt they'd be too distracting from the work we already did on the walls. Then we found the bear was the perfect little animal touch to the wall with the mountain on it and we placed it under the window.
Suddenly we found ourselves looking at the cute little fox and thought it was a perfect addition to just above the dresser to make it look like the fox was sitting on the dresser.
Just when we thought that was enough, we realized the cute little deer was the perfect size for the small section of wall next to the closet and it helped balance out the room.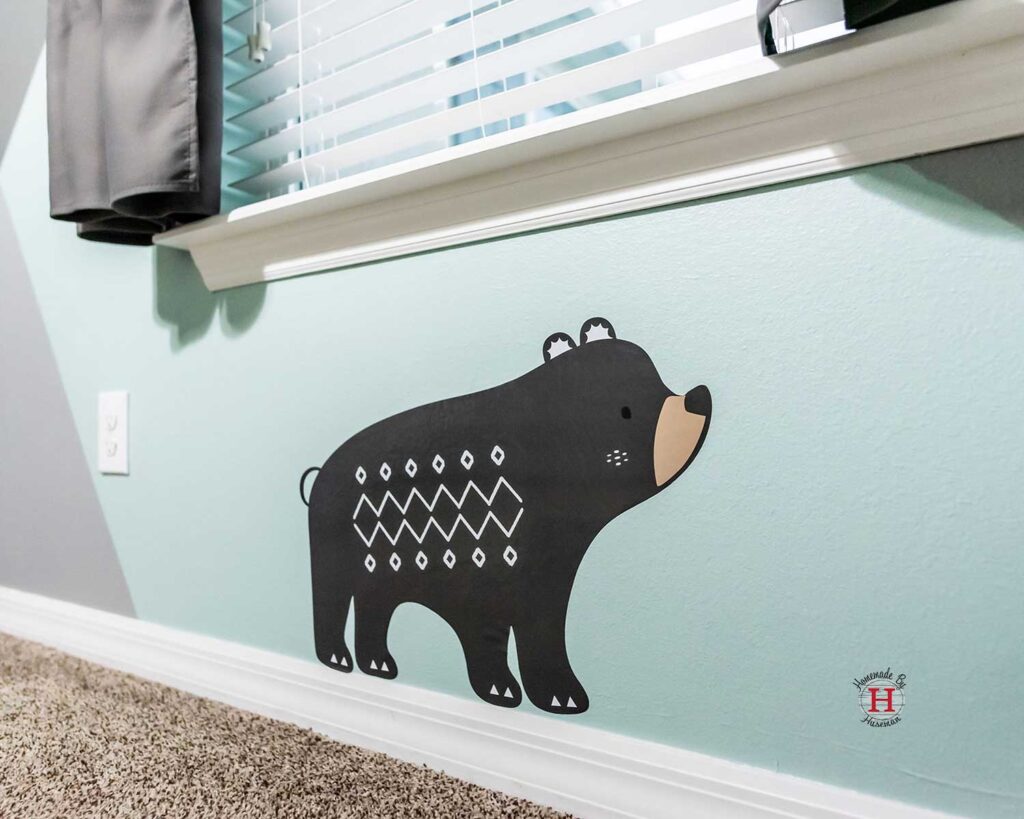 Okay, now we were done. The set also came with the phrase " I Love Your More than I can Bear" and some stick trees, but there wasn't a place we felt those fit – for now. We've held on to them in case the perfect spot arises, but for now, the walls just have the sweet little woodland creatures.
In addition to the bedding set, we needed something to hold the changing pad and a small lamp.
Since our older son was too big for a changing table and nearly out of his pull-ups, we reused his changing pad holder that was in his room which was already a Homemade by Huseman original, put together with 2x4s sized perfect the fit the changing pad and sanded down and painted to make it safe for baby.
However, this changing pad holder was bright red to match our first son's nautical theme, so it didn't match the room at all. With some quick thinking, we took the leftover quart of light yellow paint we bought for the sun on the mountain wall and painted the red. It was the perfect pop of color without adding another new color to the room.
As for the lamp, we had no idea how hard it would be to find the perfect lamp. Anything with a cute woodland theme seemed way too overpriced and of it wasn't overpriced it was way to big too sit on top of the dressers next to the changing table.
Finally, Target came through with this perfect mini-table lamp. There's a whole line of them in many shapes and sizes but the off-white faux wood base was absolutely perfect and it was only $12 at the time of this post.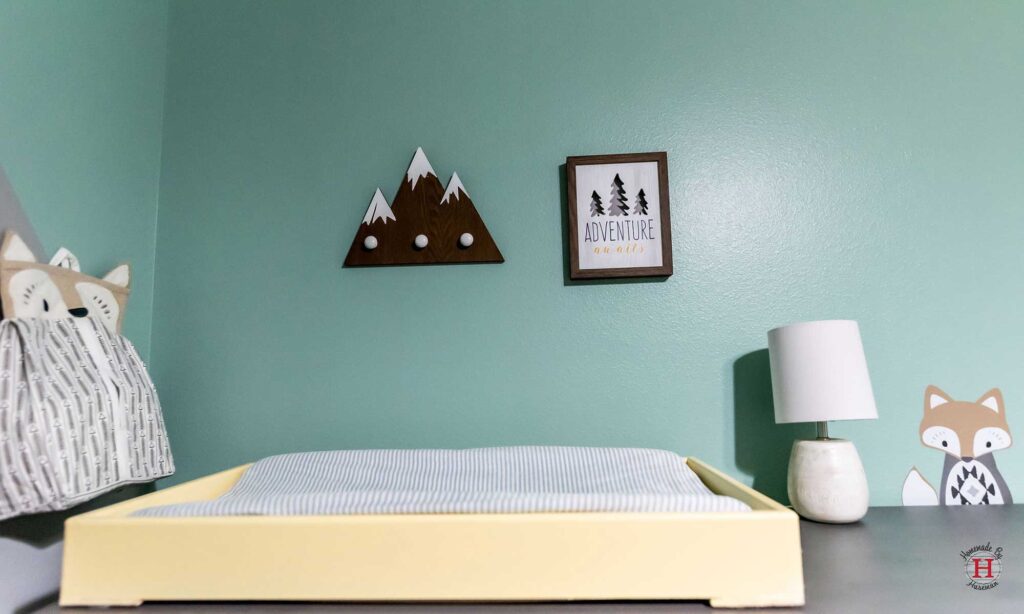 The room felt like it was all coming together. The mountain themed nursery décor was just enough to give a perfect cozy cabin vibe without being too cheesy or overwhelming. After putting everything in there was just one odd space that felt too empty and left the room unbalanced. Then we realized we didn't have any sort of place to store books or toys except in the closet. I found this four-cube storage shelf at Target with a couple of fabric storage bins that were perfect for the space. The white matched the trim in the room and the simplicity made it a simple addition without distracting from any of the other decorative elements in the room.
The last piece to the room was the curtains. Blackout curtains are a must for any nursery and we debated for a while about picking something with a pattern or going solid. Ultimately, we went with a solid gray to be cohesive with the furniture. One of the windows is on the mountain nursery wall and we felt anything with a pattern would be competing with the mountains on the wall.
If you've ever shopped for curtains you'd know they can get expensive quickly. We happened to stumble upon these curtains from Amazon and were skeptical about their quality and room darkening ability because of the price (a set of 2 for $16!), but figured it was easy enough to send them back if they didn't work out and we couldn't ignore the over 80,000 5-star reviews! Lucky for us, these curtains are amazing and exactly what we needed.
We also highly recommend the Amazon Basics Room Darkening Blackout Curtain Rod. We have used this curtain rod in every bedroom of our house and have found it's super easy to install and being able to pull the curtain all the way to the wall really helps with room darkening.
Overall we were so happy with how this mountain themed nursery turned out! We wanted something special and unique for our newest little Huseman and couldn't wait to share it with him. We hope you take a piece of our ideas and make them your own for your home.
As always, if you're local to the Tampa area we're happy to do an in-home consultation with you for your room renovations to bring the perfect nursery you've been dreaming about for your little one to life!
Check out more of our recent work: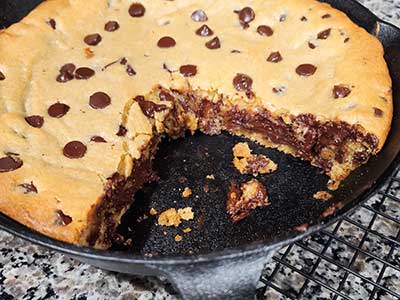 Chocolate chip cookies from scratch are what I consider my BEST baked good. They're always…
We are sorry that this post was not useful for you!
Let us improve this post!
Tell us how we can improve this post?