Ridgid tools has recently introduced their Sub-Compact line of tools and they really mean compact! The RIDGID 18-Volt SubCompact Lithium-Ion Cordless Brushless 3 in. Multi-Material Saw is my first Sub-Compact tool from Ridgid, and I fell in love with it instantly! At first my wife was asking "Why do you even need this saw, you already own one!" Once I showed her the comparison between my 7-¼'' Ridgid Circular saw and this, it became clear that a saw this small has its purpose! If you are a remodeler, tile installer, or even flooring installer (and of course the typical DIYer) this tool will definitely have a special place in your tool box!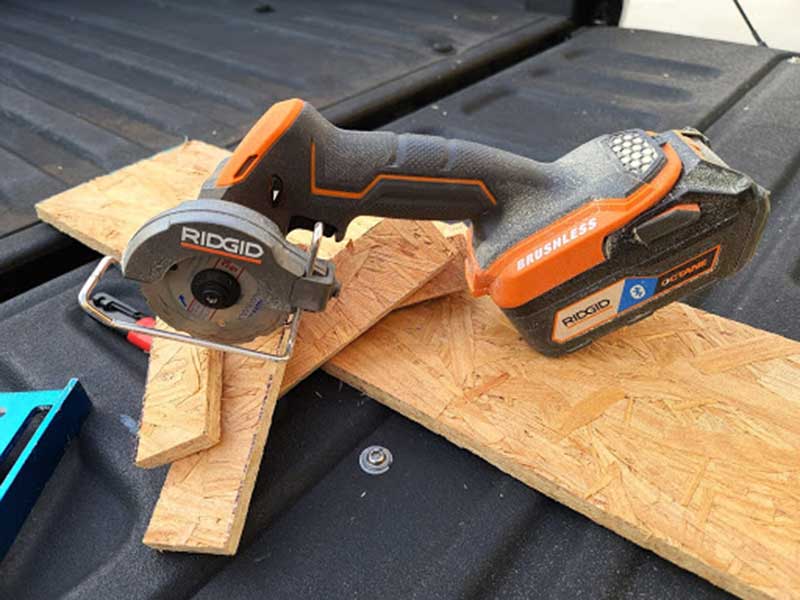 Model: R87547B
Cost: $99.00 (as of 8/5/2020)
Specifications
Up to 19,000 RPM for multi-material cutting
Forward and reverse switch to change direction of cut for added convenience
Motor Type: Brushless
Product Weight (lb.): 1.55 lb
Variable Speed: Yes
Voltage (volts): 18 (Battery and Charger Sold separately)
Included Items:
(1) R87547 18-Volt SubCompact Brushless 3 in. Multi-Material Saw, metal cut off wheel, diamond tile wheel, carbide abrasive wheel, adjustable wire guide, hex key, and operator's manual
Pros vs Cons
Pros:
As with every Ridgid Tool, it comes with a Lifetime Service Agreement (with tool registration)
Super Light weight for easy cutting and provides great control
100% Battery compatibility with other Ridgid Batteries, including Octane Batteries
Variable speed trigger (no speed settings) to get accurate cuts without jumping
Cutting head rotates and locks into 3 different positions without additional tools
Included Hex Key Storage for quick blade changes
Air cooling, with dust filter built into the handle
Cons:
Cutting depth, because this is only a 3'' blade, the deepest I was able to cut was just shy of ⅝'' of an inch
Lack of replacement Ridgid cutting blades, but other brands do work!
Being a tool only option, Battery and charger sold separately
Overall Impression and On the Jobsite Performance
I purchased this tool with a single project in mind. We were planning to install vinyl plank flooring in our master bedroom, but naturally I wanted to try it out first.
After buying a 3'' cutting disc assortment, I tested this on door trim, #5 Rebar (⅝'' Diameter), ½'' PVC pipe, 7/16'' OSB plywood and ⅛'' Masonite Hardboard using a Ridgid 6 aH Octane battery – all with great success!
The standard door trim was too thick to cut all the through, but it was still a clean cut.
I was able to cut through the rebar with little wear and tear to the cutting disc and no stalling from the Sub-Compact, brushless motor. However, I did need to bend the rebar at the cut in order to finish cutting all the way through. Once I bent it down, I was easily able to cut the remaining ⅛''. Cutting the rebar still made a good amount of sparks, but they are forced away from your body.
The wood and plastic blade I used to cut through the OSB plywood had no issues or slow downs and cut with ease. The dust was kicked forward of the tool which kept the cutting surface free and clean of the debris.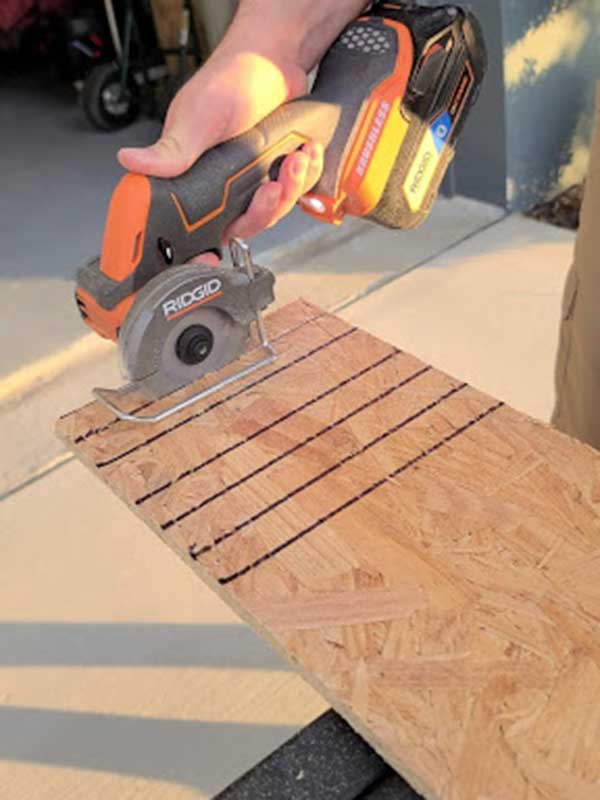 Overall, I would recommend this tool for anyone who already owns Ridgid Tools and needs to make minor cuts. Are you going to build an entire house with this tool? No. But will you be able to complete the punch out task, do a quick remodel, avoid making an excessive trip to the saw cut station? Absolutely!
Because this tool is cordless, you aren't tied down by a cord. You can easily fit it into your tool box without adding to much bulk or weight. This will make quick jobs even faster with just as accurate cuts! Because Ridgid offers 100% compatibility on all their batteries, you do not have to worry about buying a special battery if you already own one.
I will have to hand it to Ridgid on this tool, this is a tool that I didn't know I needed until I used it.
We are sorry that this post was not useful for you!
Let us improve this post!
Tell us how we can improve this post?