Prep Time: 45 – 75 mins
Cook Time: 15-20 mins
Yields: 1 medium pizza and a dozen rolls, or 2 small pizzas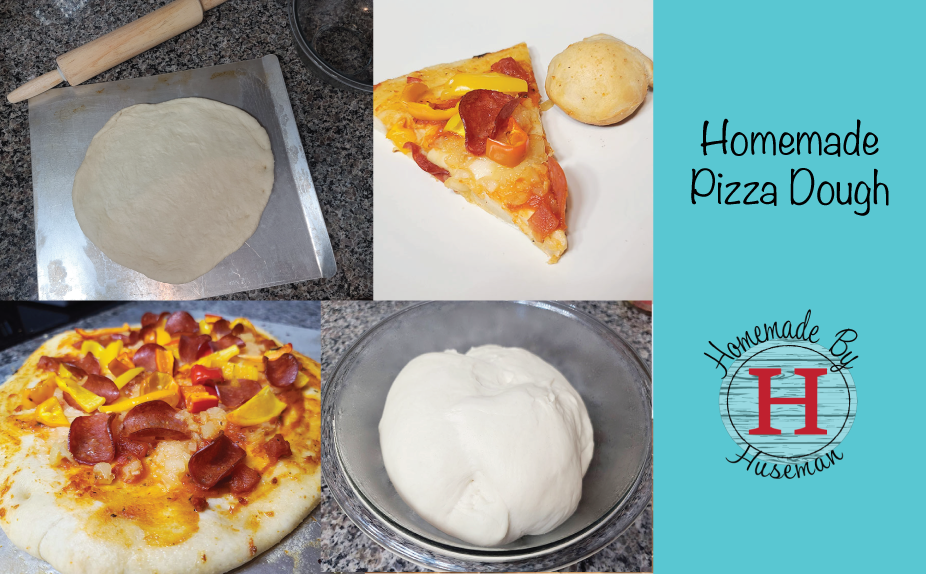 Check out this recipe for the best (and easiest) homemade pizza dough. It's perfect for a fun make-your-own-pizza night at home, or if you're like us and you need some dairy and soy free options for your favorite food.
When I had to go dairy and soy free for Jeremy, one of the hardest things to give up was pizza. It's my favorite food and we ate it weekly. While a cheese-less pizza seems like it would be the obvious option, most of our usual pizza chains didn't have soy-free pizza dough.
I tried frozen and boxed versions of allergy friendly pizza, but most of them just didn't cut it and I found it was the crust that just wasn't right. A good pizza has a perfect mix of crispy on the outside and soft and chewy on the inside.
For MONTHS I went without pizza, it was brutal. Then my father-in-law shared this gem of recipe for an easy pizza dough that's easy to work with and tastes incredible.
Mixing the pizza dough
I highly recommend using a stand mixer for this homemade pizza dough because there's a lot of mixing time to get the right consistency, and eventually the dough gets thick and stretchy and you'd need to knead it. I use my Kitchen-aid with a spiral dough hook attachment. This ensures the dough is properly kneaded vs just mixed.
When making the dough you'll want to start by putting the dry ingredients in a large mixing bowl and give them a quick mix for even distribution. Then make a well in the middle and pour in the water and oil.
Start your mixer on low until the ingredients are combined for about 1 minute, then mix on high with a hook attachment for 7 minutes. The result should be a stretchy and dense ball.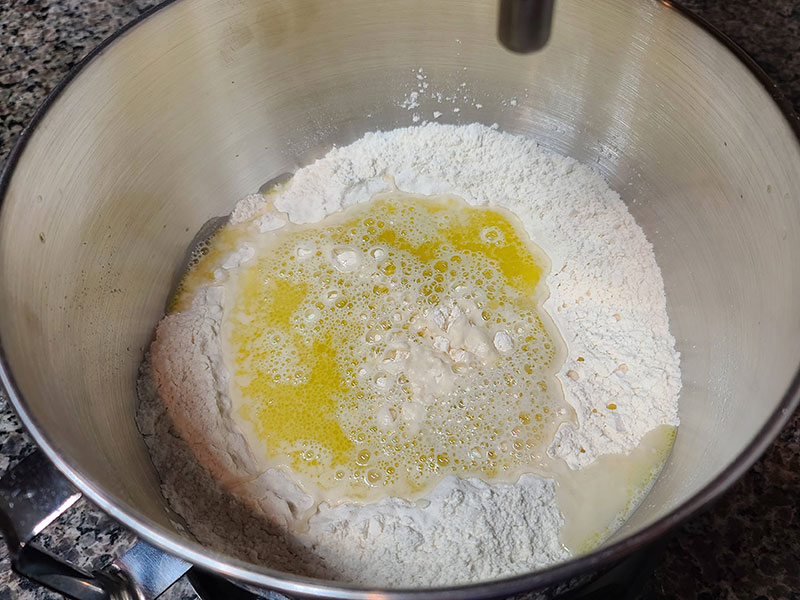 Let the dough rise
Put the dough into an oiled bowl and cover it to let it rise. Your dough should double in size.
I like to use a pizza-specific instant yeast to cut down on the rise time, about 30 minutes. If using a regular instant yeast, you'll need about an hour.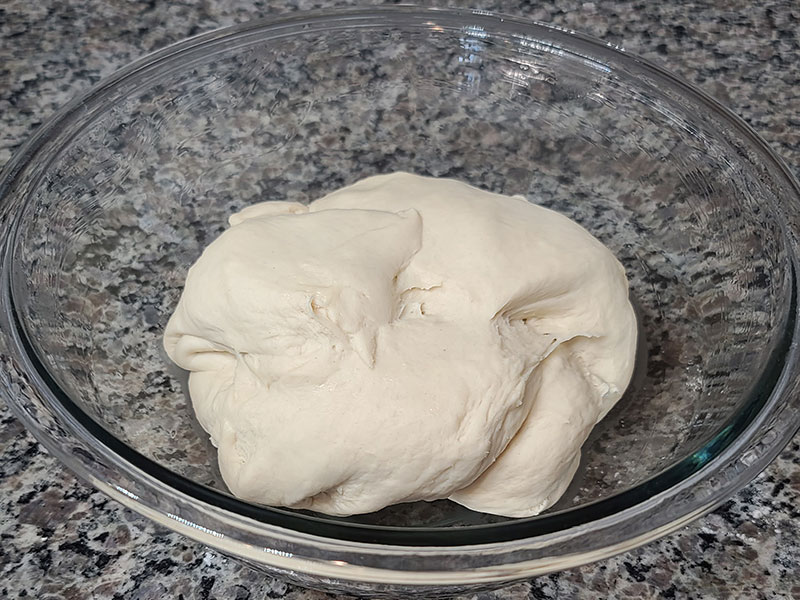 Rolling the pizza dough
Once your dough has doubled in size you can divide it out. I like to use about ⅓ of the dough for rolls and ⅔ of the dough for a medium sized pizza. Alternatively, you could divide the dough in half and make two pizzas.
I'm no pizza expert so I haven't mastered tossing into the air for a perfect pie. I typically stretch the dough by pulling the ends to get it into a disc shape, and then I use a roller to flatten it out. This dough is pretty dense and will rise a little more in the oven so you'll want to roll it out to about ¼ in. thick and then pinch up the edgest to make a crust.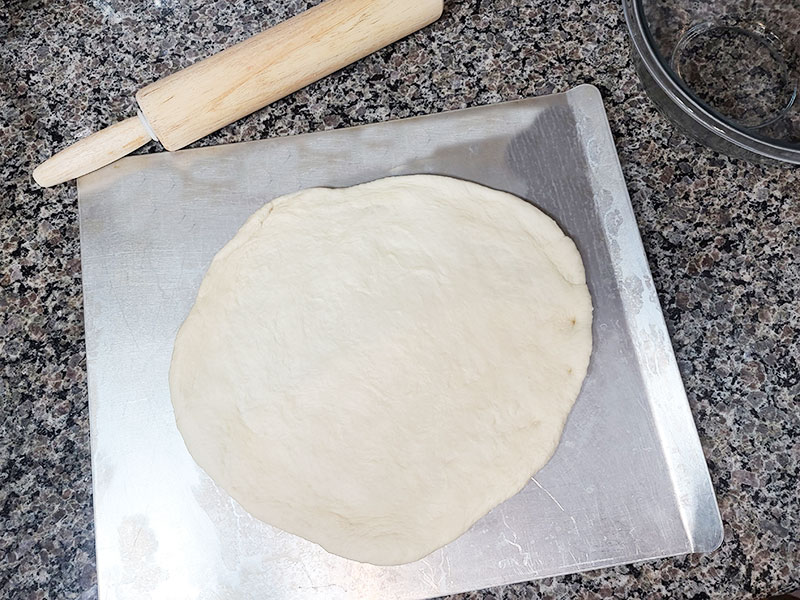 Pre-bake the pizza dough
Before adding ingredients, put the dough in your 400 degree oven for about 5-7 minutes to prebake it. It's best if you can use a pizza stone if you like a crispy bottom, but something like an air bake pan works well as well. This will help your dough cook all the way through once you add all the toppings.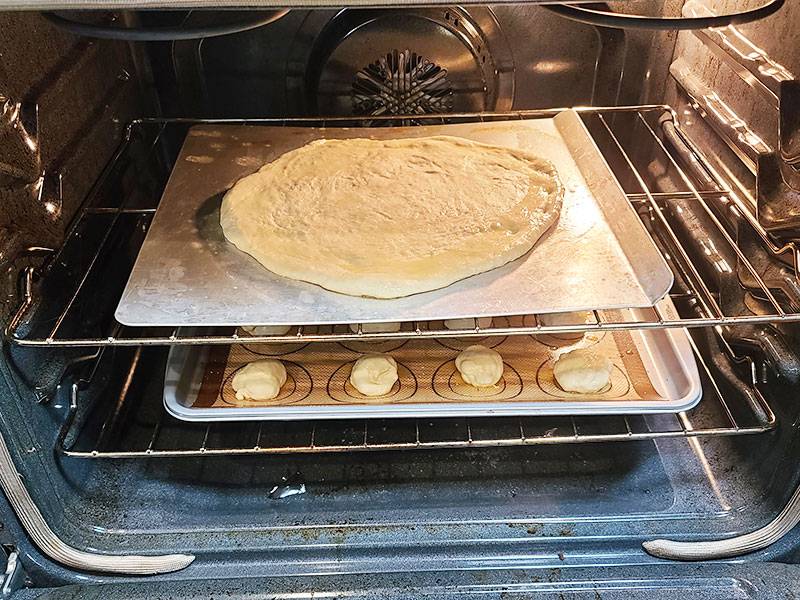 Creating rolls
The best part of homemade pizza dough is having some left over for some garlic rolls! While your dough pre-bakes you can make some quick rolls or garlic knots with the extra dough. You can get fancy with something like a knot, but I find they taste just the same and get eaten just as quickly with little 1.5in balls of dough.
I like to top mine with a little garlic butter (plant butter for us). Which I make by melting the butter and mixing in garlic salt. And because I personally love garlic salt on my pizza, I sprinkle a little more on top. The rolls need about 12 minutes in the oven at 400 degrees. These rolls are delicious dipped in marinara sauce.
Adding your pizza toppings
Once your dough has had a little time to prebake, pull it out and add your favorite toppings. I found less is more when it comes to toppings and that I only needed about 3-4 tablespoons of sauce otherwise my toppings slid right off and turned into pizza soup on the plate.
Our favorite dairy and soy free pizza toppings include pepperoni, diced ham, pineapple tidbits, and bell peppers. I also like to add that melted butter and salt combo along the crust.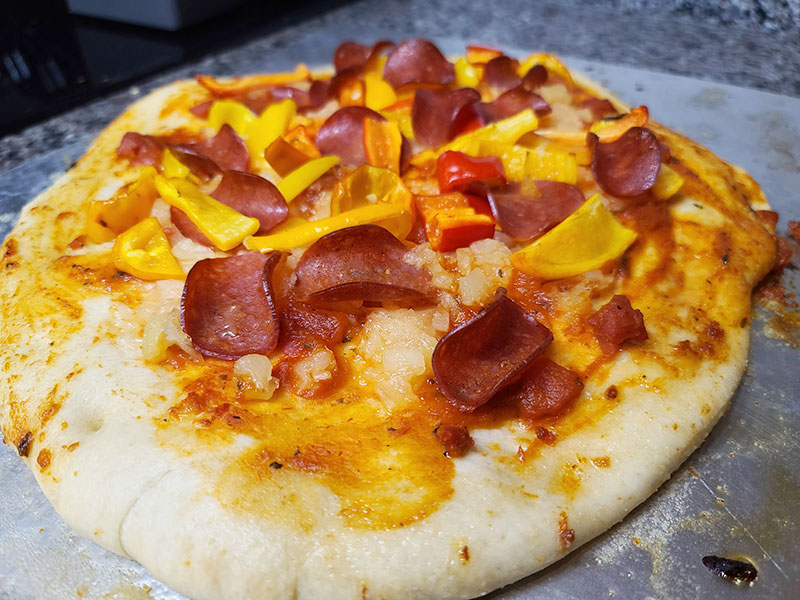 Bake your pizza
Once your toppings are on, bake your pizza for 15-20 minutes. Once your crust develops a golden brown color and has a nice crisp to the touch it's ready to pull out. I like to give it a good 5 minutes to cool and let the toppings set before cutting into it.
Cut, serve, and enjoy!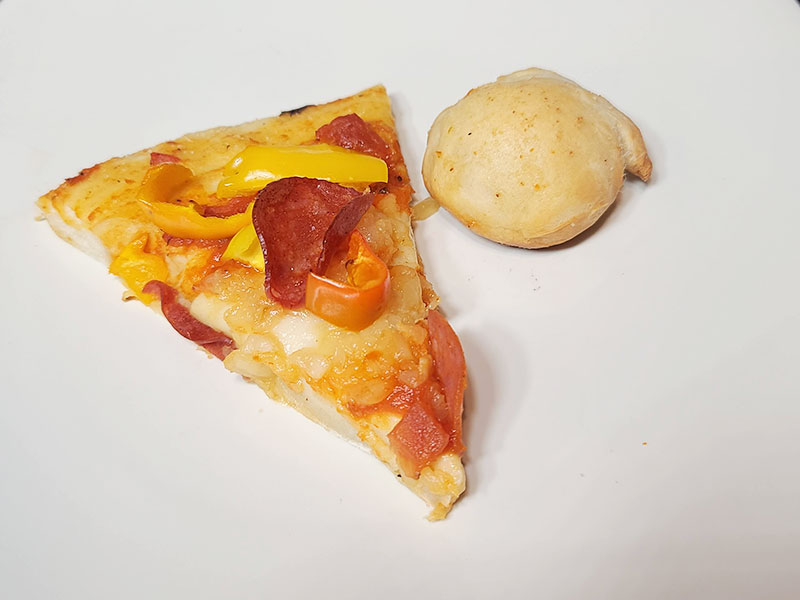 Did you try this homemade pizza dough? Tell us what you think in the comments and don't forget to share with us and your friends using #homemadebyhuseman
Recipe
Ingredients:
4 cups bread flour
1 tsp sugar
2 ¼ tsp instant yeast
2 tsp salt
1 ½ cups 115 degree water
2 tbsp olive oil
Directions
Put the bread flour, sugar, yeast and salt into a stand mixer and briefly mix to evenly distribute
Create a well in the dry ingredients and pour in the water and oil
Mix on low for about one minute until wet and dry ingredients are mostly combined
Mix on medium with a spiral dough or hook attachment for 7 minutes
Place the ball of dough into an oiled bowl and cover
Let the dough rise until it doubles in size, about 1 hour for instant yeast or 30 minutes for pizza instant yeast
Divide the dough in half for two small pizzas or into ⅓ and ⅔ sections for a medium pizza and rolls
Preheat the oven to 400 degrees
Roll the dough into a pizza shape, about ¼ in. thick. Make rolls with about 1.5 in. balls and space them about 2 in. apart.
Pre-bake your pizza dough about 5-7 minutes. Rolls need about 12 minutes in the oven
Add your toppings
Return the pizza to the oven for 12-15 minutes until the crust has a crispy golden brown outside.
Let the pizza cool for about 5 minutes before cutting
Serve and enjoy!
Check out more of our recipes:
We are sorry that this post was not useful for you!
Let us improve this post!
Tell us how we can improve this post?