Prep Time: 15 mins
Cook Time: 20-30 mins for muffins, 45-55mins for a loaf
Serves: 12 muffins or 1 loaf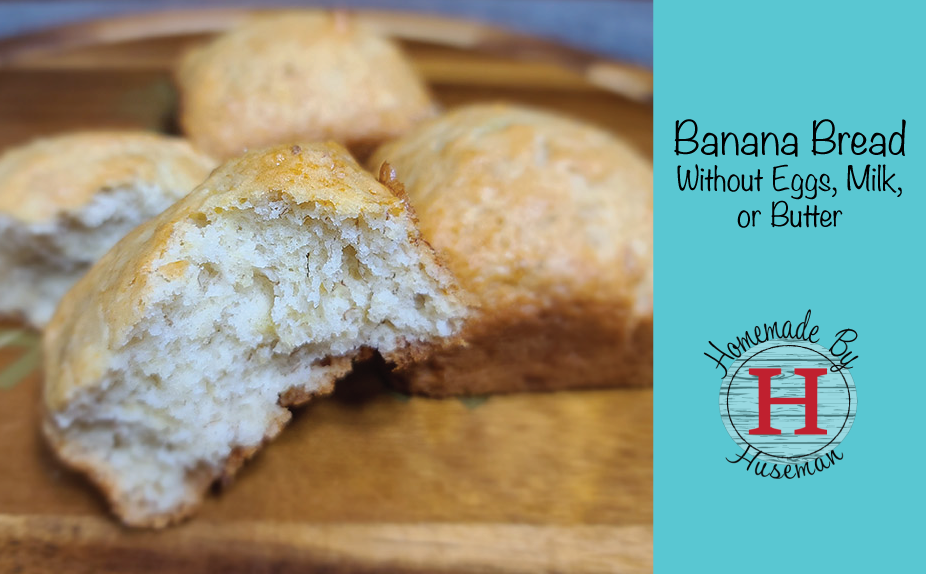 What can you do with bananas going bad? In the Huseman household it means homemade banana bread! This banana bread recipe is made without eggs or dairy due to our son's allergies, but it's also perfect if you just don't have those ingredients on hand. Actually, think I prefer this banana bread without eggs, milk or butter better than some of the recipes I've tried with eggs and dairy products.
Bananas are often a substitute for eggs, so that came naturally. Also, oil can often be substituted for butter in baked goods, so in this case I used canola oil since it doesn't have a strong taste like olive oil.
Tips for this recipe
What are the best bananas to use for banana bread?
When my bananas get some dense brown spotting I think they're perfect for banana bread. This is because when bananas get very ripe, they get very soft and sweet which makes them perfect for mashing and adding to baked goods. If they're nearly black, I tend to just toss them. If the bananas are only a little brown and spotty I give them another couple days so ripen up a bit more. (If they don't get eaten first!)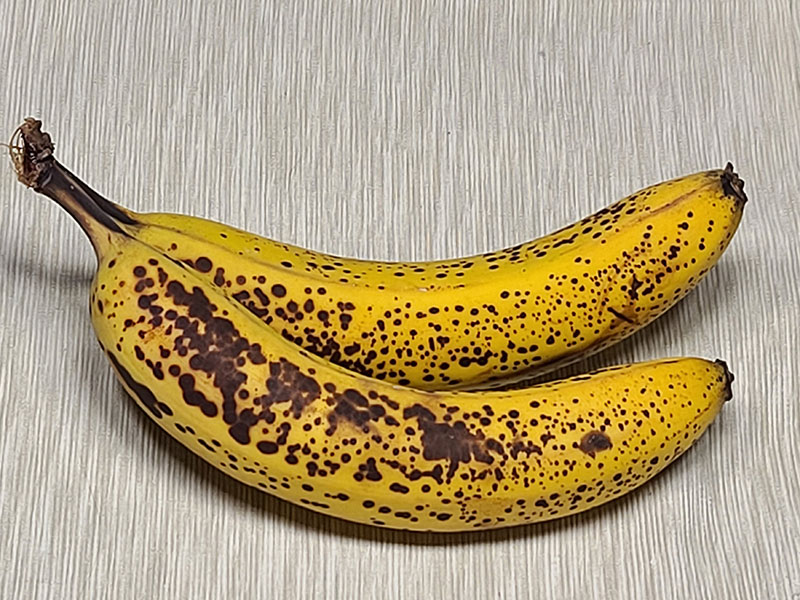 Easiest Way to Mash Bananas
When it comes to mashing the bananas, I like to use my potato masher. However, you could also easily use a large fork, it just takes a little longer. I mash them to a creamy consistency with just a few small lumps.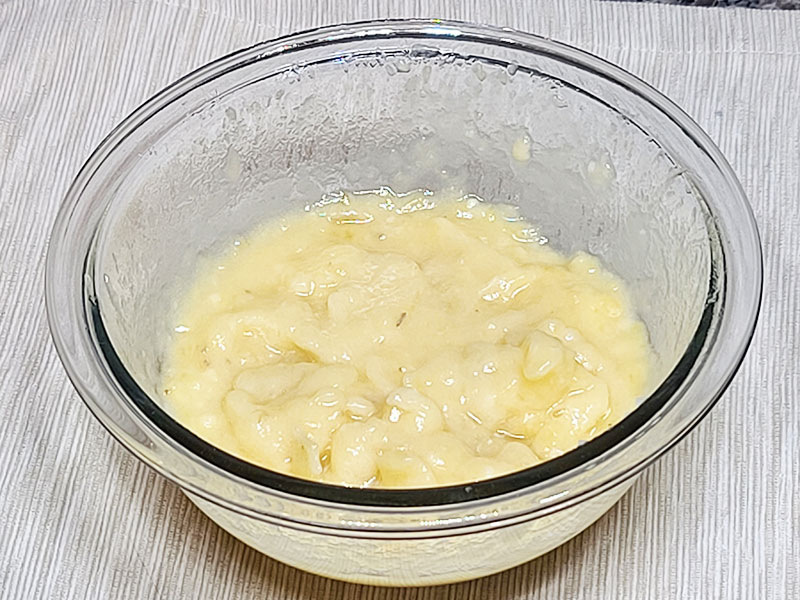 Mixing the ingredients for banana bread
I use two bowls when preparing my banana bread. In the small bowl, I mash my bananas and then mix in the oil. In the large bowl I mix the dry ingredients, sugar, flour, baking powder and baking soda.
Pro tip: I love to use my adjustable measuring spoon from Pampered Chef for the baking powder and baking soda so I have less dishes to wash.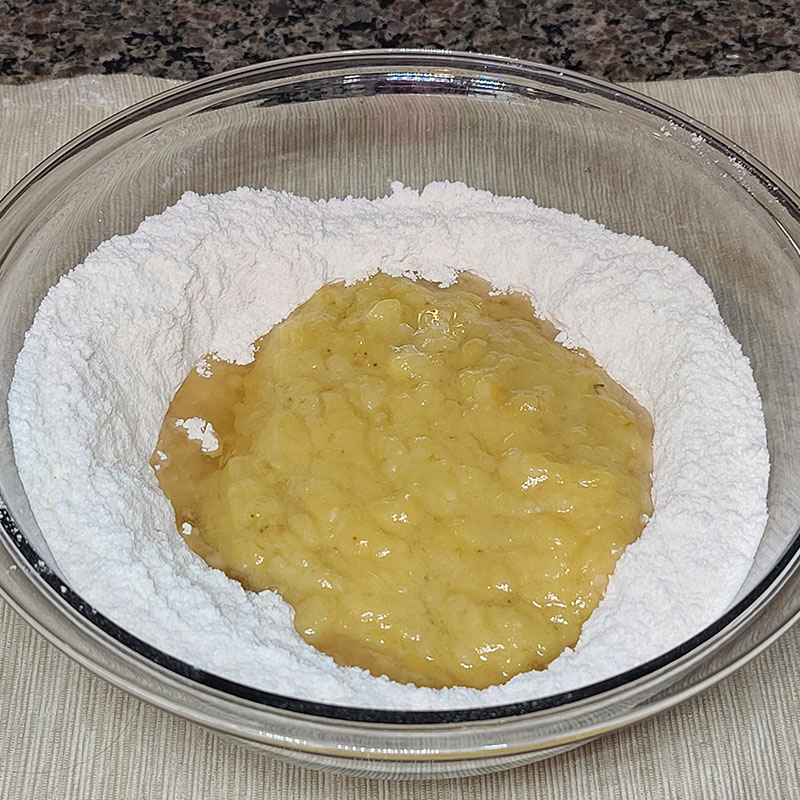 I then create a well in the middle of the dry ingredients and pour in the banana and oil mix. I do not use a mixer, just a wooden spoon. Be careful not to over mix, mix just until well combined. Your mix will be thick and some lumps are okay.
Muffins or a loaf of banana bread?
I tend to make muffins because they bake much faster and having them as a grab and go snack is perfect for our family. I actually love to use my Pampered Chef brownie pan because the square shape makes them look like a bunch of mini loafs. This recipe makes about a dozen muffins or you could bake it as a full loaf.
Whether you put them in a muffin tin or loaf pan, I recommend lightly oiling the pan with your favorite cooking spay or the canola oil. This helps them pop right out of the pan.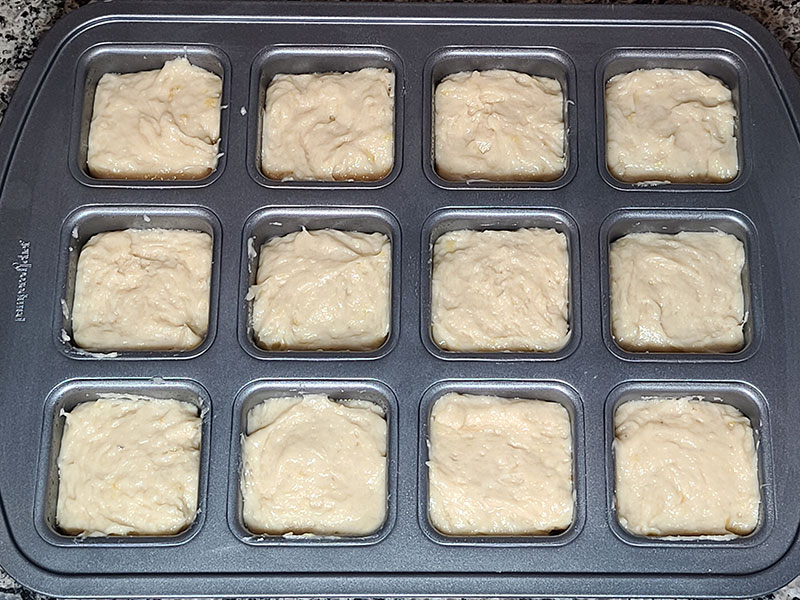 Muffins will take about 20-30 minutes depending on your oven. A loaf will typically take about 45-55 mins. You'll be able to check for doneness if they look golden brown around the edges and they're firm on top.
Let the bread cool
These muffins will make your kitchen smell unbelievably delicious, but when you pull them out of the oven resist popping one in your mouth right away. Not only will it be piping hot, but the muffins actually finish baking when you let the pan cool (away from the oven, not on a warm surface). After about 10-15 mins on a cooling rack these delicious beauties are ready to eat! They're best served warm, but still taste delicious after completely cooling.
You should have a lightly crisped crust, with a soft and airy inside. Our family tends to say they have a "more-ish" taste.
Did you try this recipe? Do you think banana bread without eggs or dairy is just as delicious? Tell us what you think in the comments and don't forget to share with us and your friends using #homemadebyhuseman
RECIPE
Ingredients:
2 large ripe bananas mashed (about 1 cup)
⅓ cup Canola Oil
2 cup flour
⅔ cups sugar
2 tsp baking powder
¼ tsp baking soda
Directions:
Preheat the oven to 350 degrees
Mash the ripe bananas in a small bowl
Add the canola oil to your bananas and gently mix
Mix the flour, sugar, baking powder and baking soda in a large bowl
Create a well in the middle of the flour mix and pour in the banana and oil mix
Stir well (I use a large wooden spoon) until ingredients are combined. The batter will be thick, do not over mix.
Spoon your batter into a muffin tin or loaf pan. Fill about ⅔ full, the bread will rise.
Bake at 350 degrees for 20-30 minutes for muffins or 45-55 mins for a loaf.
Let muffins cool (away from the warm oven) in the pan for about 10 minutes
Take the bread out of the pan and enjoy!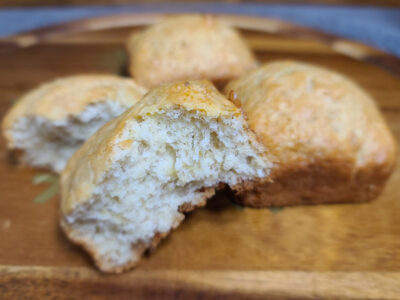 Find More Recipes:
We are sorry that this post was not useful for you!
Let us improve this post!
Tell us how we can improve this post?